Bequests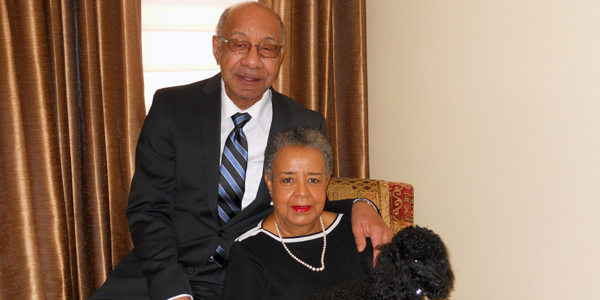 A STRONGER UNIVERSITY
Dr. Jimmie and Golda B . Franklin
Our parents taught us that a college education was crucial for success. And their belief is as true now for young people as it was years ago. But a college education has far more than economic value, especially for young people from certain segments of society. It can serve as a liberating influence that enables people to negotiate a very confusing and often frustrating society, one that seeks to seal them in place, or to stifle creativity and notions of self.
More than ever giving back to a person's alma mater is important, especially for those of us who graduated from predominantly African-American universities (HBCU's). Many graduates who received degrees from those institutions have not done a good job in that respect. When we view giving among HBCU graduates over the past half century, the reality is that we have failed miserably! A relatively low percentage of graduates join an alumni chapter, to say nothing of making any kind of contribution to their school. Yet, we often hear a great deal of empty talk about "giving back, " or rants about what someone else, or "the state," is not doing. While support from business and governmental institutions is crucial for institutions of higher learning to achieve success, those entities alone cannot create the kind of educational excellence needed in today's world. Colleges and universities need contributions from their alumni! Only two or three black institutions in America have been able to convince a respectable percentage (more than 10%) of alumni to support them on a continuing basis. That's incredibly sad; and that should be unacceptable by black leadership in every single community across America!
We want to do our part in making Jackson State University (JSU) a preeminent, first-class university. That is why we give! It gave to us! We have heard many graduates of the institution advance reasons why they do not give. But those things are mostly excuses for not contributing to an institution that offered so much to them, often in an age when no other school permitted their attendance. Every single graduate of a university faces some kind of unfavorable incident in his/her matriculation, but that is hardly a reason to penalize generations of students who desire nothing more than an opportunity to learn and to succeed--to achieve a better life for themselves and the ones they love. It is as simple as that.
Is a charitable bequest right for you?
We have resources that will help you learn more about bequests.
Click here to review sample bequest language
. You will see how easy it is to include a bequest in your will or trust.
You might find it helpful to print this page and the bequest language. Please feel free to give this information to your attorney. If he or she has any questions, please
contact us
.
*Please note: The names and image above are representative of a typical donor and may or may not be an actual donor to our organization. Since your benefits may be different, you may want to
click here to view an example of your benefits
.